We now have PayPal, Visa, Amazon and more Gift Card withdrawals! Stay tuned for even more withdrawal options in the coming weeks.
Cashing Out To PayPal
Direct PayPal withdrawals are unavailable on the site. We understand this is a very popular withdrawal method, so we have made this guide to walk you through cashing out to PayPal using Coinbase.
Note: You must have at least 11,000 coins ($11.00 USD) to convert from BTC to your local currency using this method. We recommend saving your coins on the site and cashing out in one go to avoid price fluctuations.
Step 1 - Register a Coinbase account and withdraw your coins
If you already have a Coinbase account, great, if not go to coinbase.com and register an account there.
Retrieve your email address from Coinbase as shown (highlighted in blue):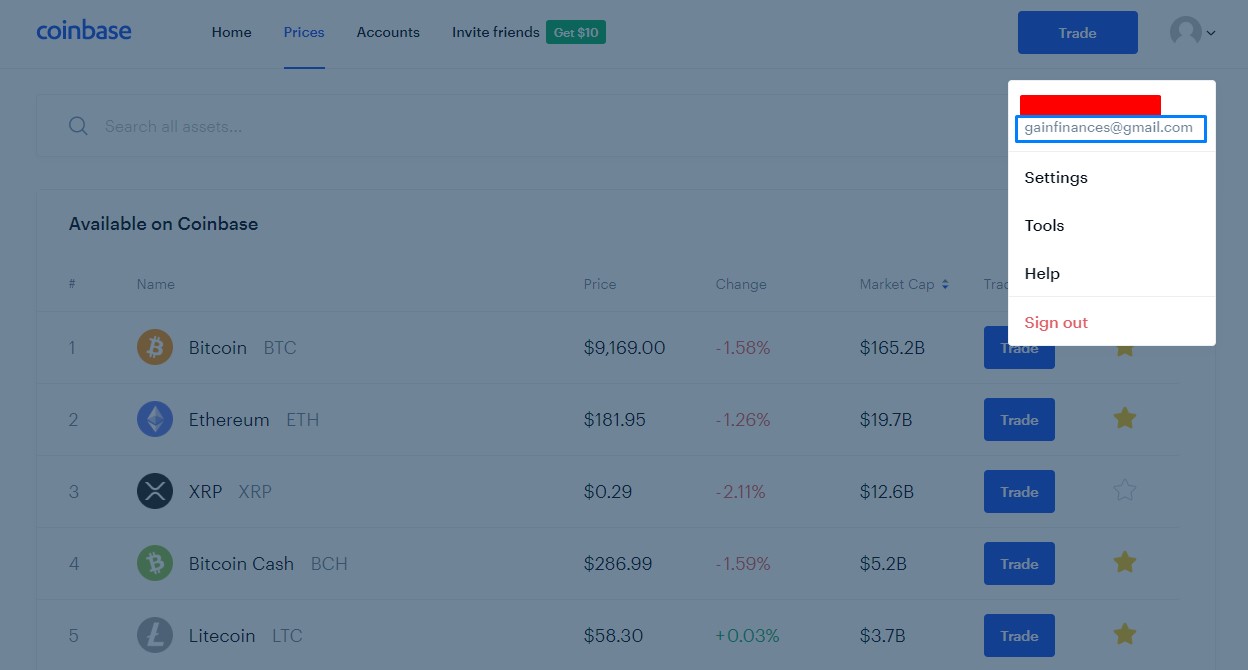 Step 2 - Withdraw your coins
Click the withdraw link to show the withdraw selection screen. Click on 'bitcoin', then click on the 'Coinbase Email' selection button at the top: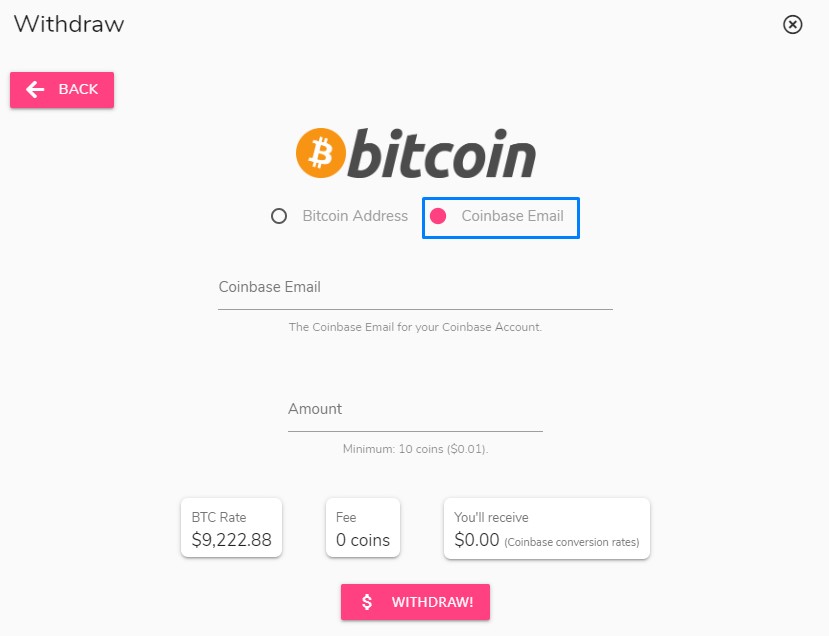 Fill in the email address retrieved from the last step, type your desired amount and withdraw your coins. The funds should show up in your Coinbase account instantly upon withdrawal approval.
Step 3 - Deposit onto Coinbase Exchange
Now that you have Bitcoin, it's time to convert it into fiat currency for PayPal. Navigate to pro.coinbase.com (Coinbase's exchange platform) and click on 'My Wallets' at the top (highlighted in blue):

Now, click on 'DEPOSIT' on the left-hand side of the screen (highlighted in blue):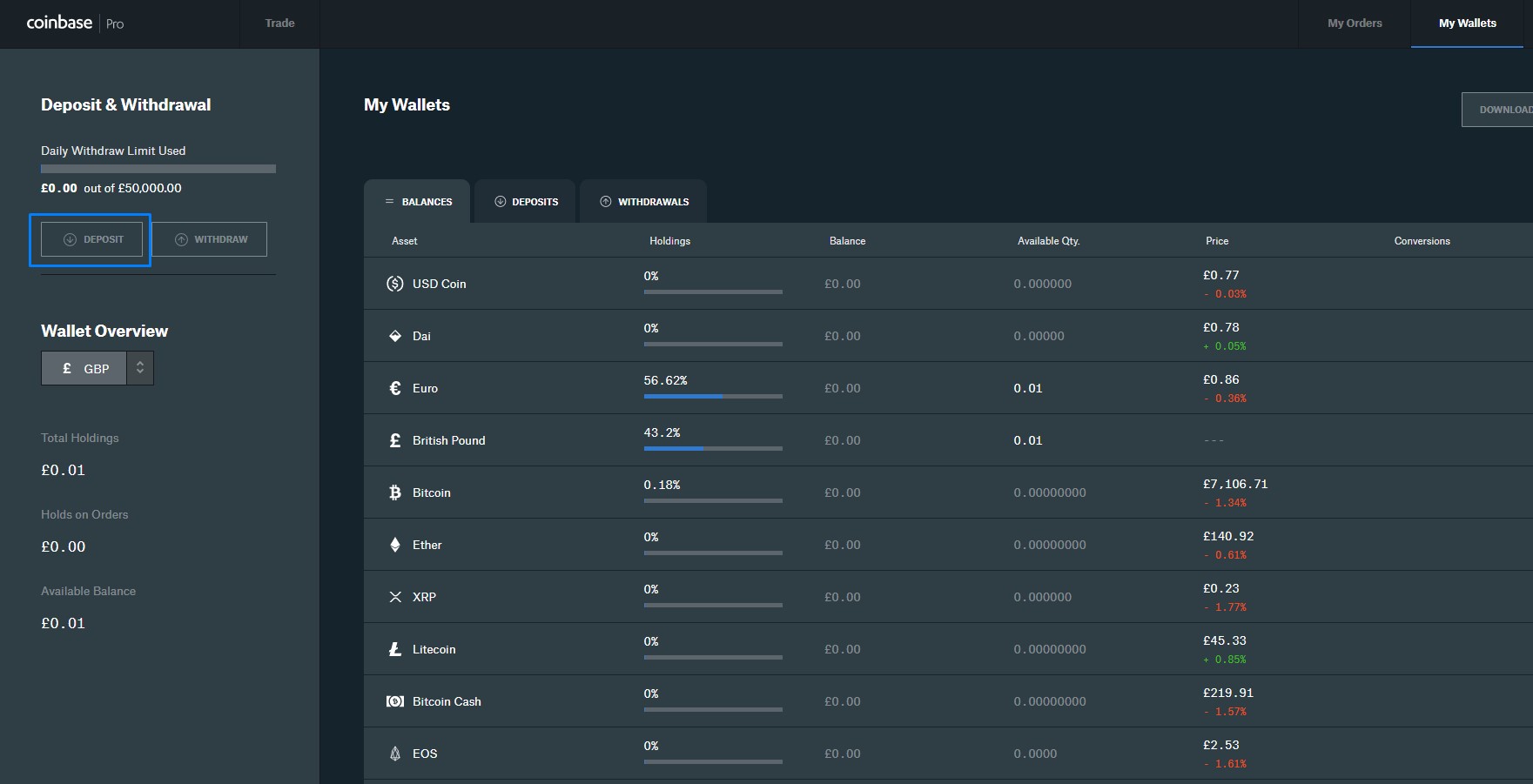 On the 'Currency Type' dropdown list, choose 'Bitcoin'. On this page, click on the 'COINBASE ACCOUNT' tab, click on the 'Max' button to deposit your whole Coinbase balance, then click on the deposit button at the bottom (all highlighted):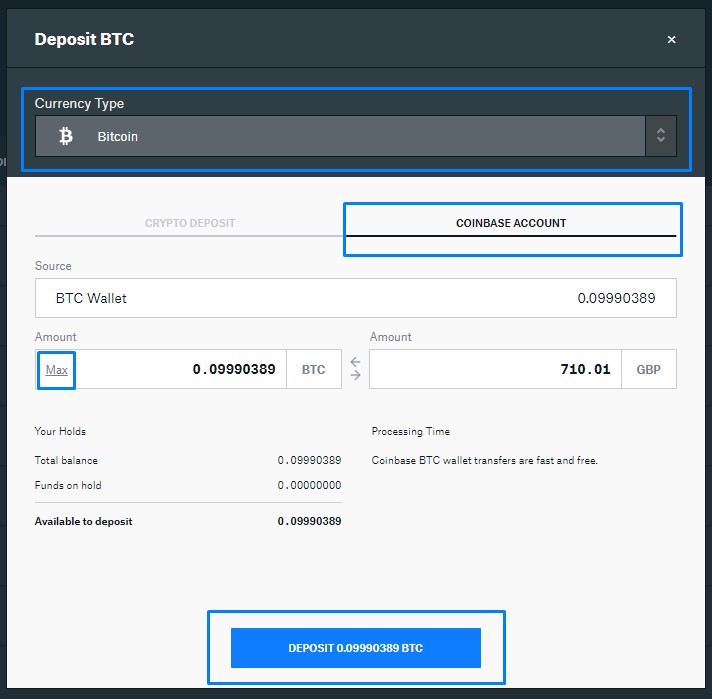 Step 4 - Convert to your local currency
Navigate back to the 'Trade' page using the top navigation bar on pro.coinbase.com, click the 'Select Market' dropdown list, then select 'BTC-USD' (or BTC-*** depending on your local currency):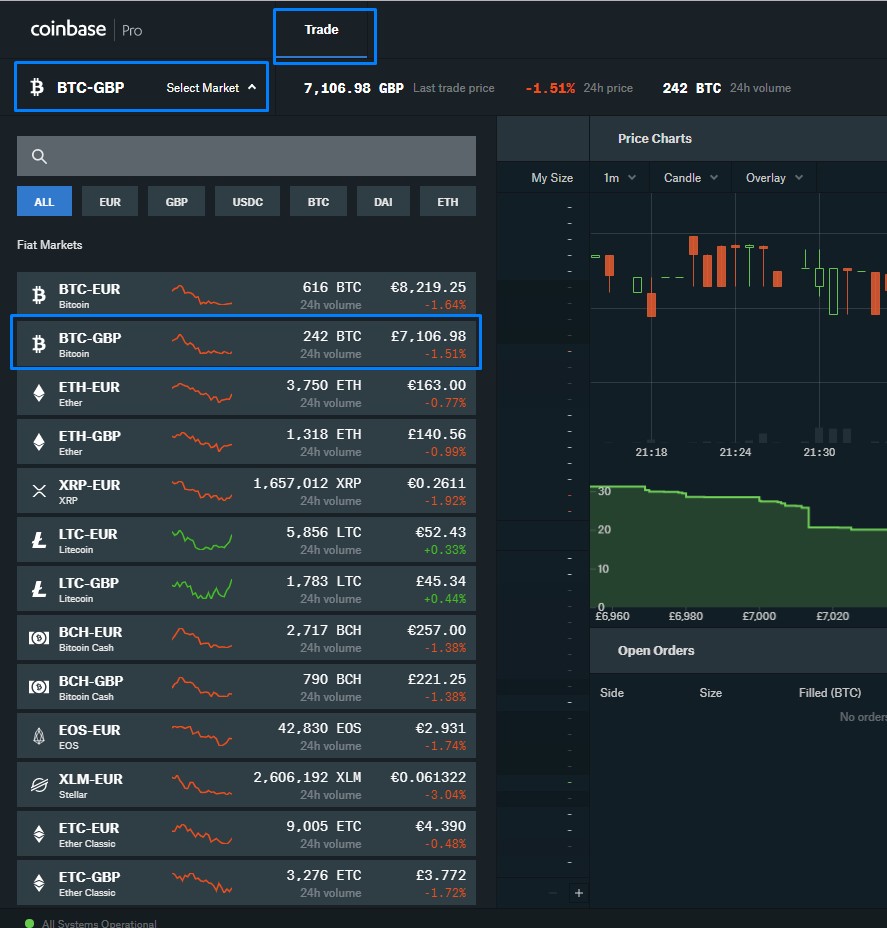 On the 'Order Form' section, select 'SELL' and click on 'Max' to enter your whole balance. Click the 'PLACE SELL ORDER' button and your Bitcoin will be converted to your local currency: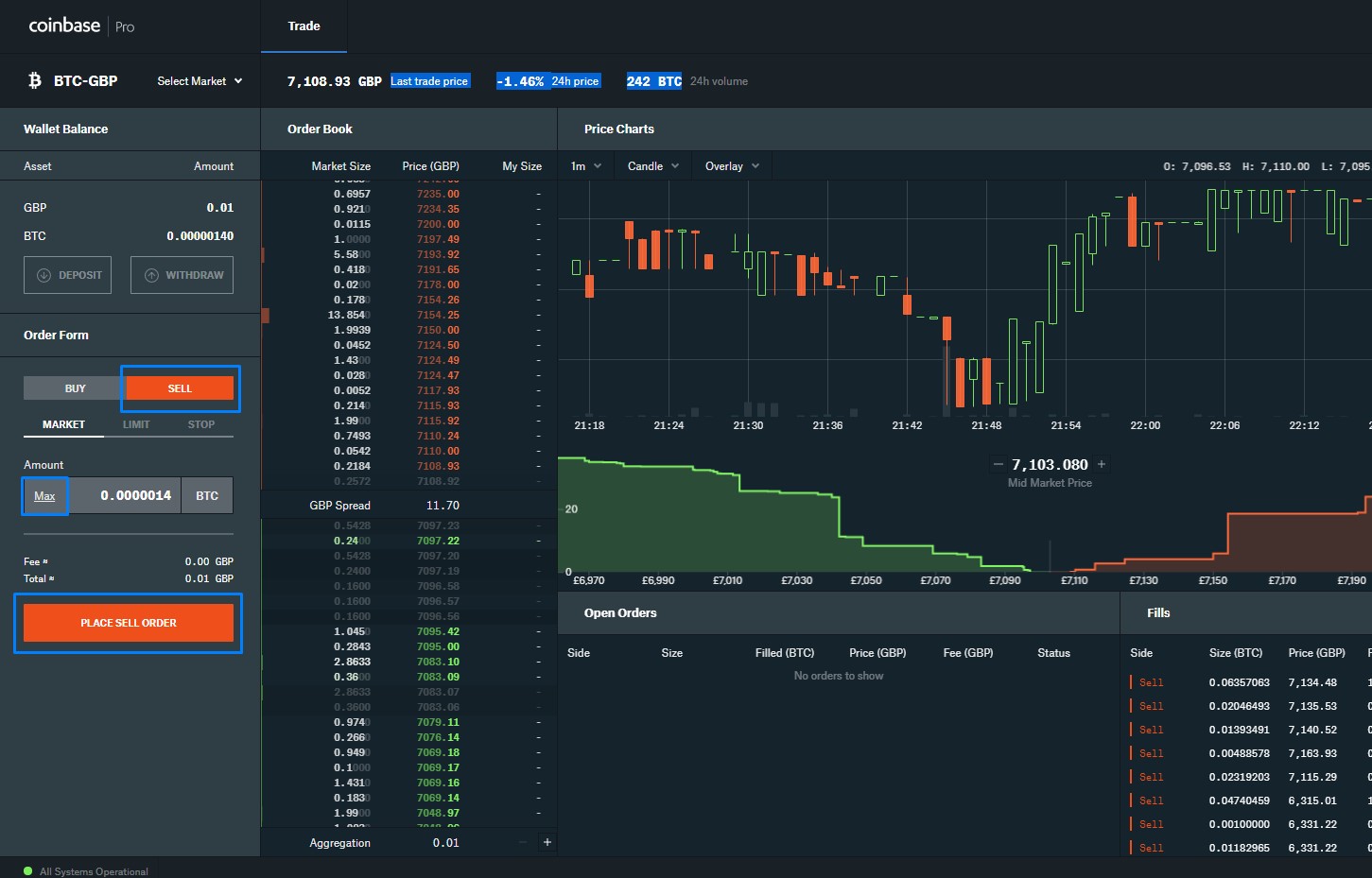 Navigate back to the 'My Wallets' page in the navigation bar and click on 'WITHDRAW' on the left-hand side: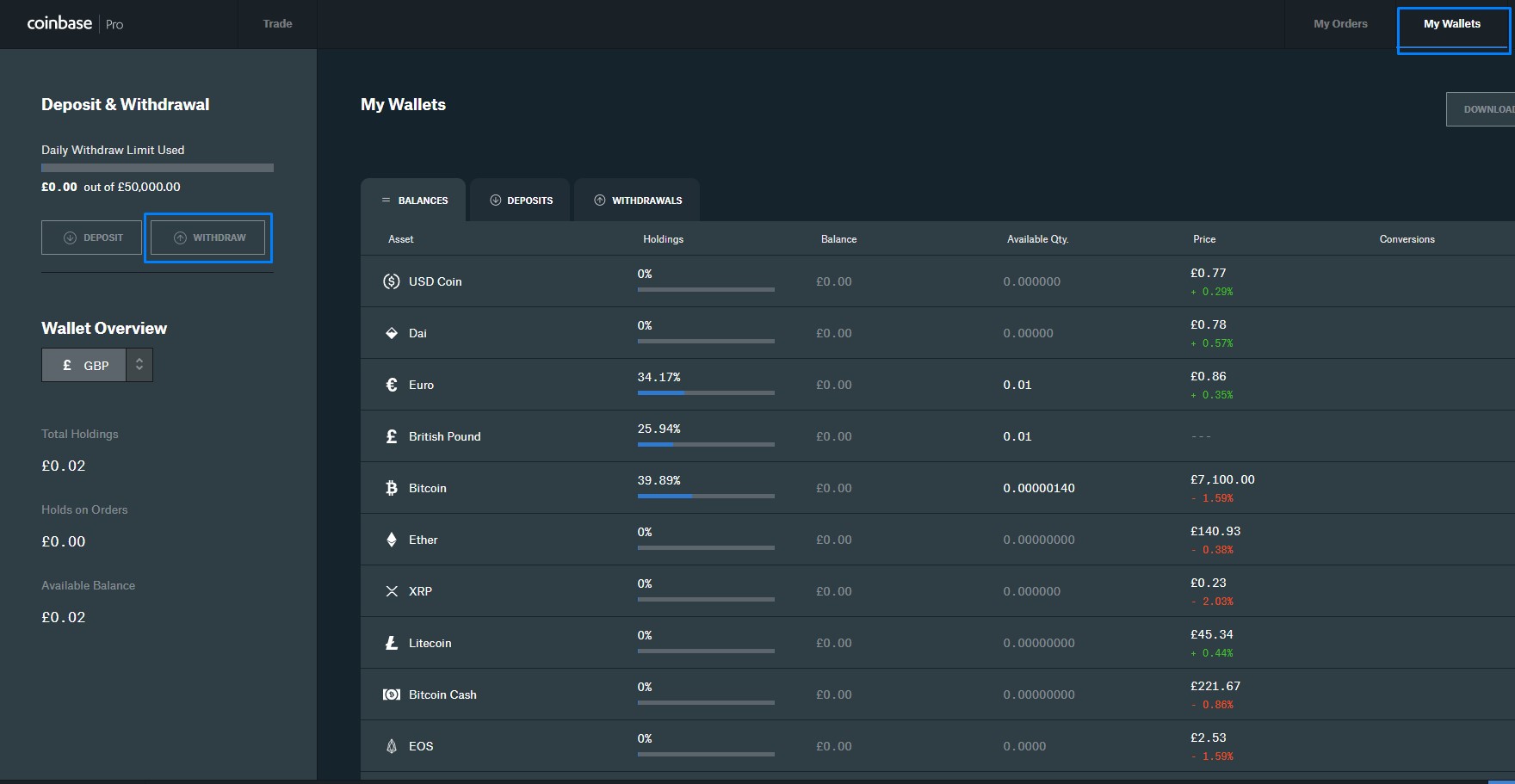 Select your local currency from the 'Currency Type' dropdown list, click 'COINBASE ACCOUNT', select 'Max' and withdraw your funds back to Coinbase: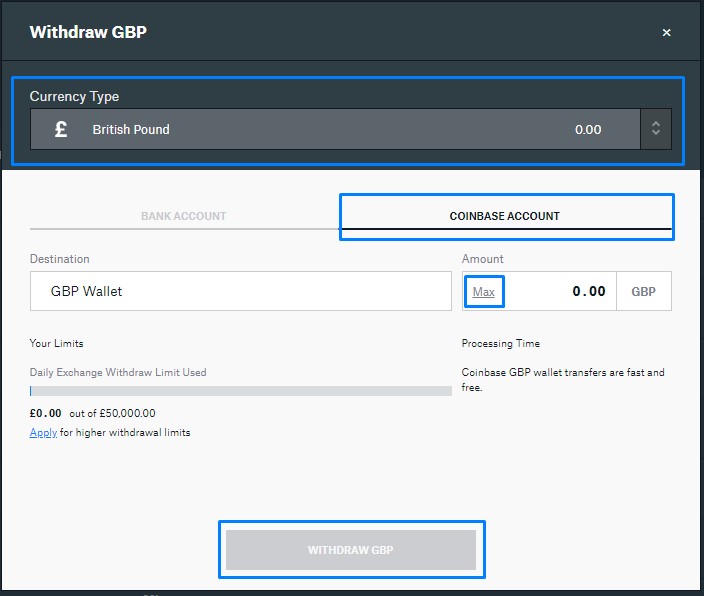 Step 5 - Link your PayPal account to Coinbase and withdraw
Navigate back to coinbase.com. Select the 'Settings' page using the dropdown box in the top right and click 'Linked Accounts':

From there, click the 'Link a New Account' button, then select PayPal: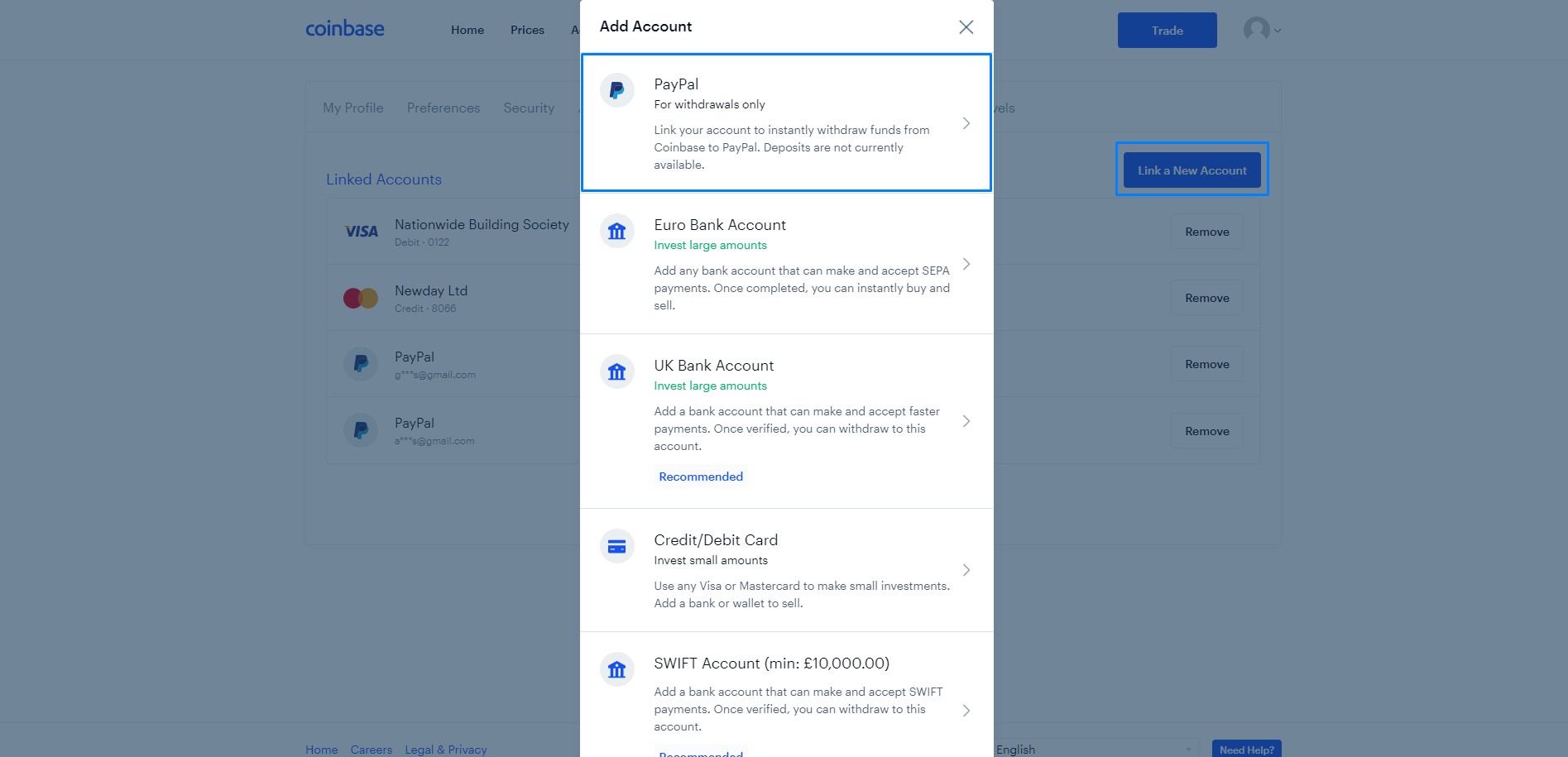 After logging in with PayPal, your account should be linked. Navigate to the 'Accounts' tab on Coinbase, find your local currency and click 'Withdraw':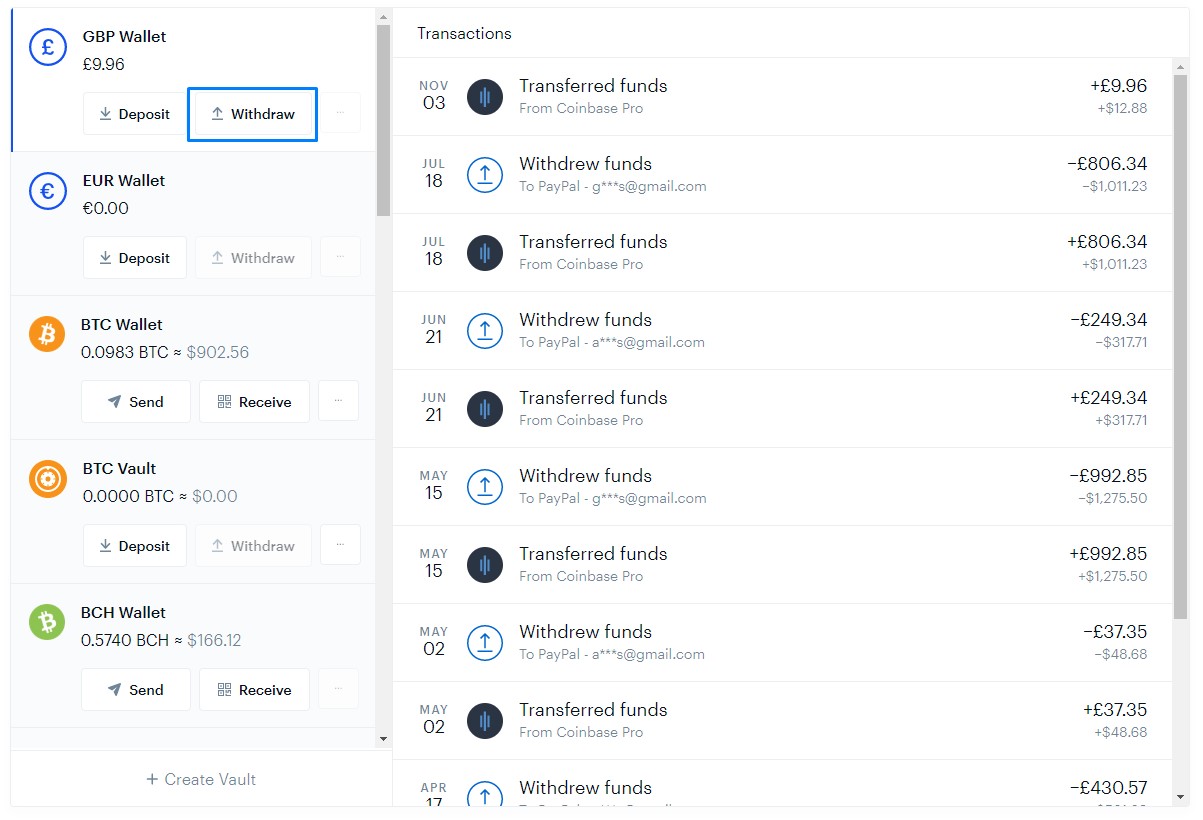 Select your PayPal account on the 'Withdraw to' dropdown box, then type your account balance into the 'Amount' input box and click 'Continue'. Confirm the transaction and your funds should be in your PayPal account instantly: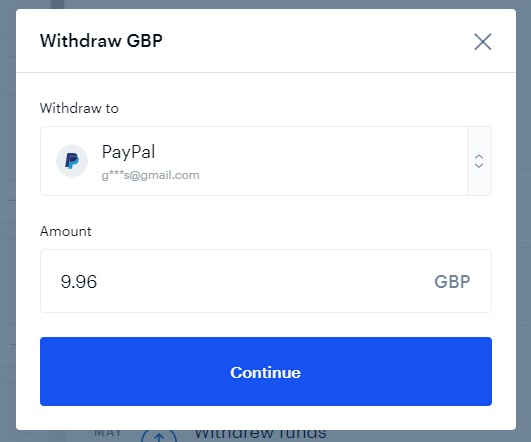 If you have any questions about the process, please do not hesitate to contact us in support chat for extra assistance.